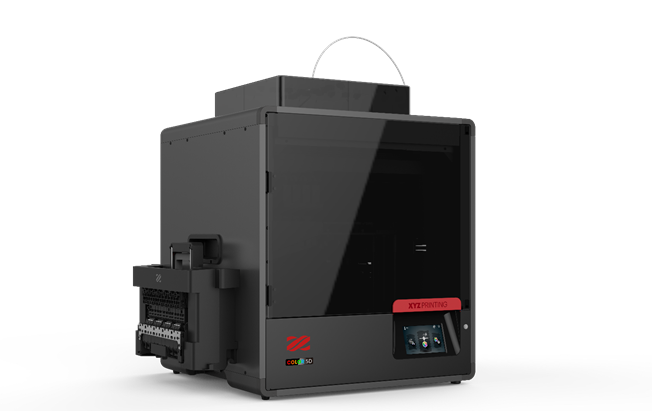 XYZprinting, the world's leading desktop 3D printer brand, has today announced it will unveil its new desktop 3D printer, the da Vinci Color 5D, at IFA 2019. It combines a full colour 3D printer, 2D inkjet paper printer, and laser engraver into one machine.
The printer features an exclusive and space-saving design, with a side-hanging paper tray allowing for easy set up when users switch between 2D and 3D printing.
Users will also benefit from the printer's five-inch colour touch panel for seamless use, auto calibration to ensure the print bed level is even to the nozzle, auto-load filament system to ensure filament is loaded correctly before use, and better printing quality thanks to a multi-temperature air fan that enhances colour and smooths objects' features.
New generation ink
The full-colour fused filament fabrication (FFF) 3D printer has both a higher printing quality and complete colour printing, ensuring three times better colour saturation than before.
Its new generation inkjet technology enables the da Vinci Color 5D to apply CMYK ink to a special colour-absorbing PLA material. This means it can print using the full colour spectrum, rather than just thousands of colours. The ink cartridges also provide improved colour saturation and optimise ink usage, giving users quality colour prints and total design freedom while saving on ink.
Comments on the News.
Fernando Hernandez, EMEA MD of XYZprinting, said, "XYZprinting has a strong legacy in consumer paper printers, large format printers, and 3D printers alike. We've had more than 30 years in the printing industry as a market leader, which is largely thanks to our constant innovation and investment in creating new products. We're thrilled to be adding to this now by bringing the da Vinci Color 5D to IFA 2019, and ultimately making 3D printing more accessible to more people.
"The da Vinci Color 5D can be used by a wide range of people, but will be particularly useful to small businesses and designers, thanks to its high-quality printing and ease of use. The 2D printing and laser engraver features make the da Vinci Color 5D a world first, and the most complete and user-friendly desktop 3D printing unit developed. Entrepreneurs and creators will truly have the ability to bring their creations to life."
The da Vinci Color 5D will be available worldwide through XYZprinting's network of partner resellers from 2020.
XYZprinting are also exhibiting a number of other printers at IFA 2019 including:
· da Vinci Color Mini
· da Vinci Mini w+
· da Vinci Nano W+
· da Vinci 3D Pen Cool
· da Vinci Jr. Pro X+
· PartPro100 xP
· EeezCure/MultiCure180
· PartPro150 xP
· 3D Scanner 2.0
· CZ-300
Did you like the content? Did you take any doubts? Take advantage and check all the content and products available on the Datasonic website, a pioneer in cutting-edge technological equipment that stands out for its diversity of brands, models and especially prices is at your disposal, so you can take all your doubts, compare prices and finally, choose the best product for you. On the website it is possible to find numerous models of 3D printers with the most diverse resources, configurations and related equipment. The Datasonic website has a wide portfolio and a range of varied products, all at your disposal.
The Datasonic website is available to you 24 hours a day, 7 days a week. Just waiting for you to come and check out all the technology in equipment we provide for you and your company. What are you waiting for? Visit us right now.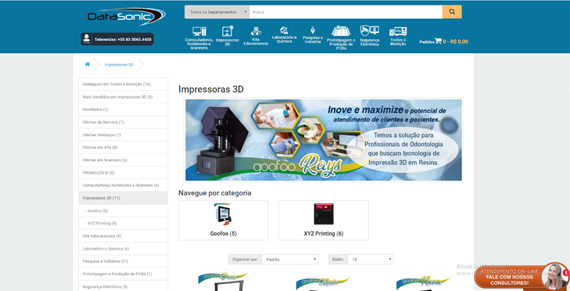 Access: https://datasonic.com.br